Special Educational Needs
More Information coming soon...
Who can I speak to about my child in school?
Mrs Double is our Special Educational Needs Co-ordinator (SENCo). She is responsible for children with Special Educational Needs and works with the children, the staff and parents to ensure their needs are being supported within our school. The parents of children with Special Educational Needs are invited to contact the SENCo at any time if they wish to discuss any aspect of their child's education and/or welfare. You can contact Mrs Double by calling the school office on: 01892 527588 or by emailing her on: senco@broadwater-down.kent.sch.uk
SEND Policy and other linked policies
Please click on the policy links below to find out more about Special Educational Needs at Broadwater Down Primary School.
Complaints Policy
Equalities Statement.
Zones of Regulation
As part of our curriculum, we teach the Zones of Regulations. We encourage the use of them in everyday life. The zones provide a framework for our children to develop self-regulation.
What are the Zones of Regulation?
The Zones of Regulation are a self-regulation system that is defined as the best state of alertness of both the body and our emotions for the specific situation. For example, when your child plays in a basketball game, it is beneficial to have a higher state of alertness. However that same state would not be appropriate in the library.
Children learn to identify emotions, recognise events that might make them move to a different zone and use the tools they have learnt to help them remain or move to a particular zone to help them regulate how they are feeling.
It is important to note that we all experience all of the zones at different times. The Red and Yellow zones are not the 'bad' or 'naughty' zones. All of the zones are expected at one time or another.
To find out more visit: https://www.zonesofregulation.com/learn-more-about-the-zones.html
The Four Zones:
Below is a picture of the four zones and the range of emotions that fit into each zone.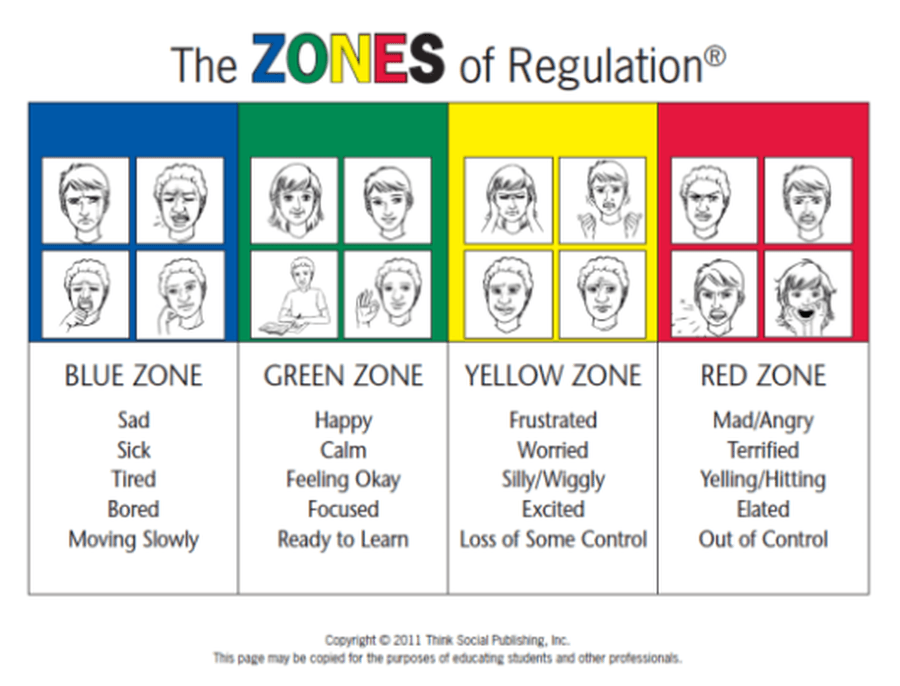 The Four Zones Explained:
The Red Zone is used to describe extremely heightened states of alertness and intense emotions. A person may be elated or experiencing anger, rage, devastation, or terror when in the Red Zone.

The Yellow Zone is also used to describe a heightened state of alertness and elevated emotions, however one has more control when they are in the Yellow Zone. A person may be experiencing stress, frustration, anxiety, excitement, silliness, the wiggles, or nervousness when in the Yellow Zone.

The Green Zone is used to describe a calm state of alertness. A person may be described as happy, focused, content, or ready to learn when in the Green Zone. This is the zone where optimal learning occurs.

The Blue Zone is used to describe low states of alertness and down feelings such as when one feels sad, tired, sick, or bored.