Special Educational Needs
Who can I speak to about my child in school?
Mrs Fenton is our Special Educational Needs Co-ordinator (SENCo). She is responsible for children with Special Educational Needs and works with the children, the staff and parents to ensure their needs are being supported within our school. The parents of children with Special Educational Needs are invited to contact the SENCo at any time if they wish to discuss any aspect of their child's education and/or welfare. You can contact Mrs Fenton by calling the school office on: 01892 527588 or by emailing her on: senco@broadwater-down.kent.sch.uk
Interventions
We offer many interventions across the school to support all pupils.
This guide aims to help parents and carers understand a little more about how these interventions support your child.
Pre Teaching

Pre teaching is used to help children, who might otherwise find it difficult, to access an area of the curriculum. It involves the children being 'pre taught' a concept that will appear in future lessons for example learning topic vocabulary or the method of column addition before using it to add 3 digit numbers.

Phonics/Letters and Sounds

Additional phonic sessions with a focus on the phonic screening check or a particular aspect of Letters and Sounds will take place with a teacher or teaching assistant. The adult will check the sounds the child knows and those they still need to practise and learn. The adult will then deliver a set of activities and games to improve their phonic knowledge.

Lego sentences

Use Lego to represent different aspects of a sentence visually. Can be used as a separate intervention or within the daily English lesson.
Numicon (maths)

Closing the Gap with Numicon Kit is designed for teaching basic number ideas to pupils of any age who are having difficulty with understanding. Children associate a number with a colour and are able to use the 'plates' to make sense of number, learn place value as well as to aid simple calculations – there are many ways in which to use this resource to aid maths understanding.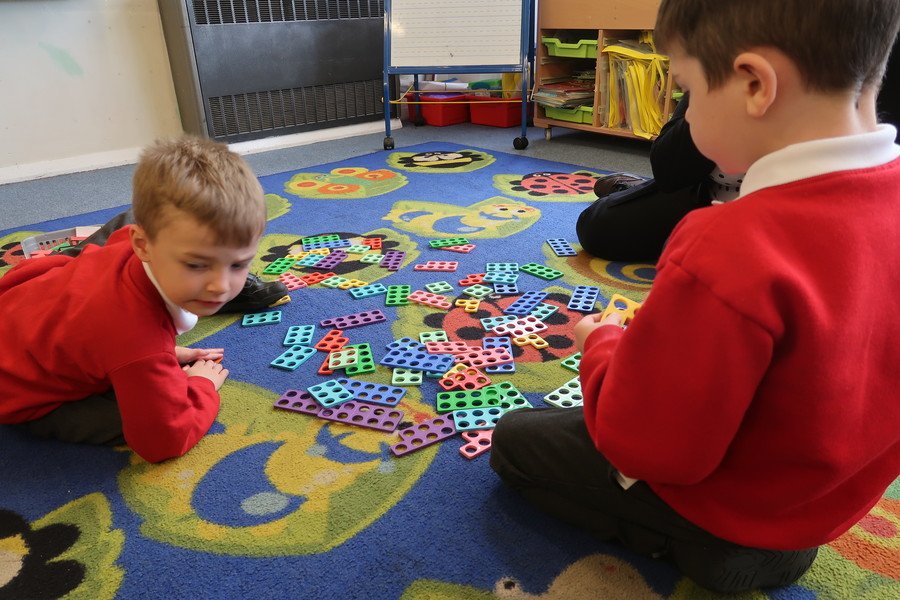 Plus 1
Plus 1 focuses on developing basic number concepts. It uses repeated practice and explanation. By the end of the book the child will have been taught key foundation principles in maths, that include:
Confidently count on and back

Know doubles up to 10
Add or subtract up to 10
Know number bonds to 20
Work out one more and one less
Be confident reading numbers
Understand the concepts of more and less, counting in 2s, counting on and back in 10s and many more concepts.
Power of 2
Power of 2 follows on from plus 1 and develops further basic skills. It uses repeated practice and explanation.

Memory Magic
This resource can assess working memory and develop memory skills with children at Key Stages 1 & 2. The programme involves children developing their auditory, visual and kinaesthetic memory through a series of activities and games. The children see an improvement in their memory skills throughout the weeks and develop strategies that they can apply when learning in the classroom
Interventions to support language and communication skills
Communicate: InPrint 3
This is a desktop publishing program for creating symbol-supported resources for printing including visual timetables, now and next boards, reward charts, task boards, social stories and accessible curriculum resources such as vocabulary mats. We also use this resource to produce our own social stories.
Dedicated sessions directly teach the use of these resources and sessions such as visual timetable become a regular part of the daily routine.
Speech and Language Link
All our children are screened by the Speech & Language Link programme in Reception, this enables us to see where the support is needed and the areas of concern. This support is usually led by a teaching assistant, who delivers sessions using Speech and Language Link resources. The support is personalised for each individual child and delivered at least twice a week. We can follow up from Speech and Language Therapy sessions out of school as well as refer your child to the Speech and Language Team (SALT) after completing a number of sessions using a programme called Speechlink/languagelink.

Black Sheep – Pupil Language Profile
This is another screening measure which will enable teachers and therapists to obtain information on a child's level of language function. The adult measures the child's understanding of language and supports the child's ability to construct short phrases and simple and more complex sequences.
Interventions to support physical and sensory development

Sensory Circuits

Participation in a short sensory motor circuit is a great way both to energise and settle children into the school day. The aim is to focus concentration in readiness for the day's learning. The circuit also encourages the development of the child's sensory processing skills. Many children can benefit from attending a Sensory Circuit, even for a short period of time.
Many children benefit from these sessions and reasons for beginning the programme vary, they include:
Constant fidgeting in class

Slow to start work and constantly missing cues

Difficulty organising self

Lethargic and dreamy

Poor coordination and balance

Known sensory processing difficulties

Constantly rocking

Has difficulty paying attention

Lacking confidence to join in

Sensory needs – e.g. chewing/ sucking on objects
Alerting sessions
The aim of this session is to provide vestibular and proprioceptive stimulation within a controlled setting. This prepares the brain for learning. Activities can include such activities as:
bouncing 10 times on a mini trampoline or space hopper

spinning a hoop

bunny hops / crab walks / frog

Jumps

therapy ball for rolling over and bouncing on,

skipping

walking on cans/stilts

These activities allow children to return to class alert and ready to learn.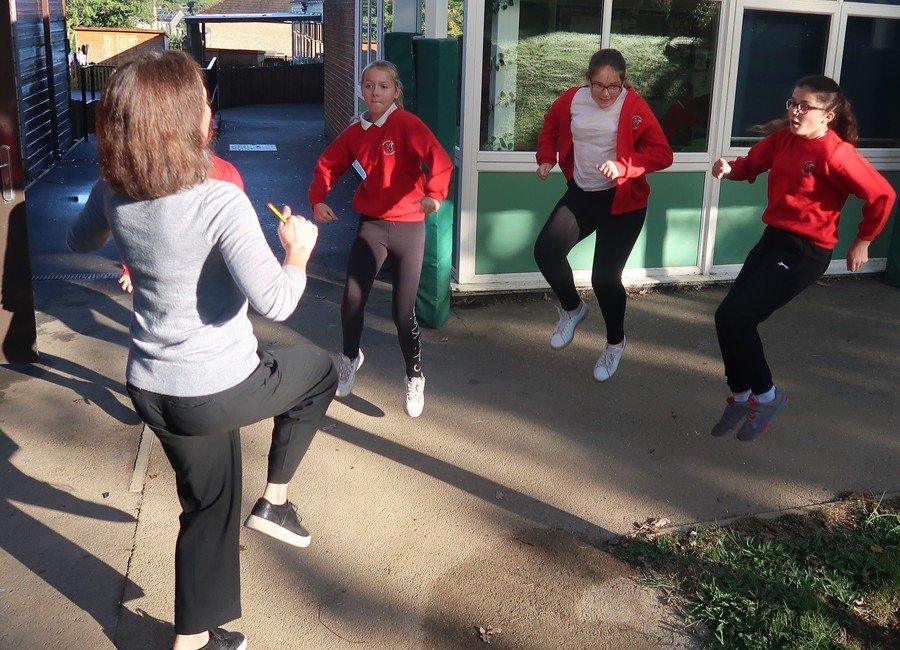 Organising sessions

This session includes activities that require motor sensory processing, balance and timing. The child needs to organise their body, plan their approach and do more than one thing at a time in a sequential order. Activities includes tasks such as:
balancing on a beam

log rolling

climbing wall bars

throwing bean bags into a target

arm push ups against the wall

blowing bubbles or blowing a paper ball to a target

wobble boards for balance work

Aiming towards a target

Skipping and jumping a moving rope.
These are skills that may increase a child's focus, attention span and performance within the classroom.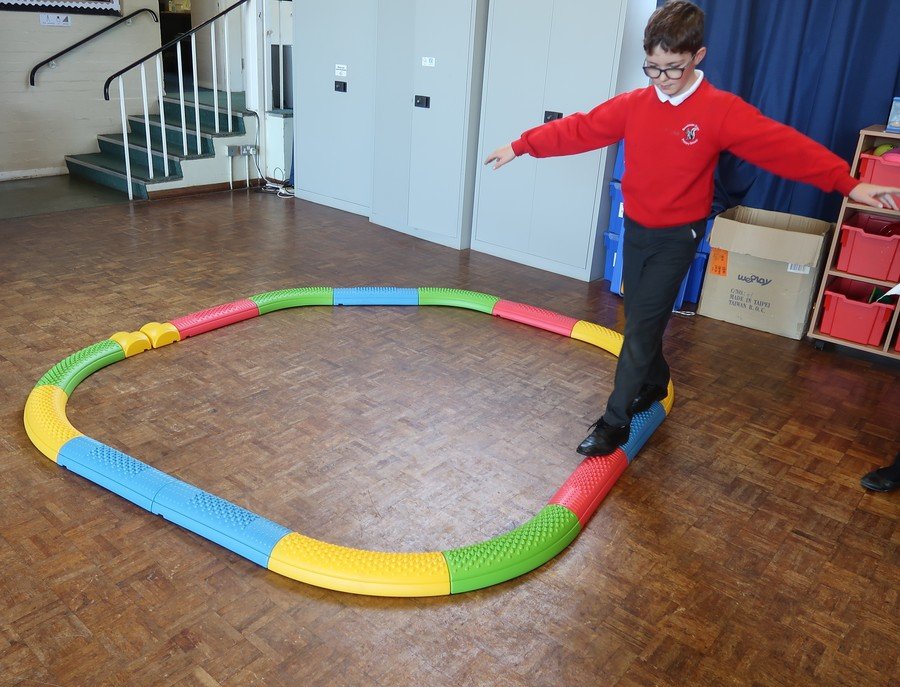 Calming session

The calming sessions are very important as they provide input to ensure that children leaves the circuit and return to their classrooms calm, centred and ready for the day ahead. Activities include proprioceptive or deep pressure activities such as:
heavy pressure on bodies

lying under weighted blankets

having balls rolled over their backs • mindfulness techniques

massage on hands/feet with pressure
The circuit should be an active, physical and fun activity that children enjoy. Ideally is should be run first thing in the morning, and after lunch if at all possible. The Sensory Circuit provides a sequence of activities done repeatedly to provide the child with the right type of sensory input in order to calm and organise them for the day ahead ready for learning.
Write dance (early years /ks1)
A fun programme where children use music to improve gross and fine motor skills. Big movements are encouraged to improve coordination and improve muscle development. The children use movements, ribbons, scarves, crayons and brushes to make marks on paper. Children make pictures using shapes, lines and swirls in a fun and engaging session. Music and storytelling encourages the children to create their masterpiece!


Clever Fingers / Funky Fingers
This is a motor skills intervention. At our school we tend to concentrate on the movements required for fine motor skills more as we also have the Sensory Circuits and BEAM programme to focus on gross motor skills. The support aims to develop the manual dexterity needed as a basis for class room tasks such as using scissors, manipulation of materials and the correct grip for using pencils, pens, paint brushes, etc.

Specialist Support
This support is for children who are unable to make good progress despite strong Quality First teaching strategies and interventions being employed in the classroom such as additional Literacy input with the class teacher and Teaching Assistant support. A feature of the support is that the specialist TA delivers a personalised programme that focuses on specific gaps in the child's Literacy/Numeracy skills that are found through assessment, e.g. visual or auditory difficulties, particular spelling gaps, specific reading skills, reading strategies. Often this support is funded through additional High Needs Funding and the child may have an EHC plan in place.
Zones of Regulation
As part of our curriculum, we teach the Zones of Regulations. We encourage the use of them in everyday life. The zones provide a framework for our children to develop self-regulation.
What are the Zones of Regulation?
The Zones of Regulation are a self-regulation system that is defined as the best state of alertness of both the body and our emotions for the specific situation. For example, when your child plays in a basketball game, it is beneficial to have a higher state of alertness. However that same state would not be appropriate in the library.
Children learn to identify emotions, recognise events that might make them move to a different zone and use the tools they have learnt to help them remain or move to a particular zone to help them regulate how they are feeling.
It is important to note that we all experience all of the zones at different times. The Red and Yellow zones are not the 'bad' or 'naughty' zones. All of the zones are expected at one time or another.
To find out more visit: https://www.zonesofregulation.com/learn-more-about-the-zones.html
The Four Zones:
Below is a picture of the four zones and the range of emotions that fit into each zone.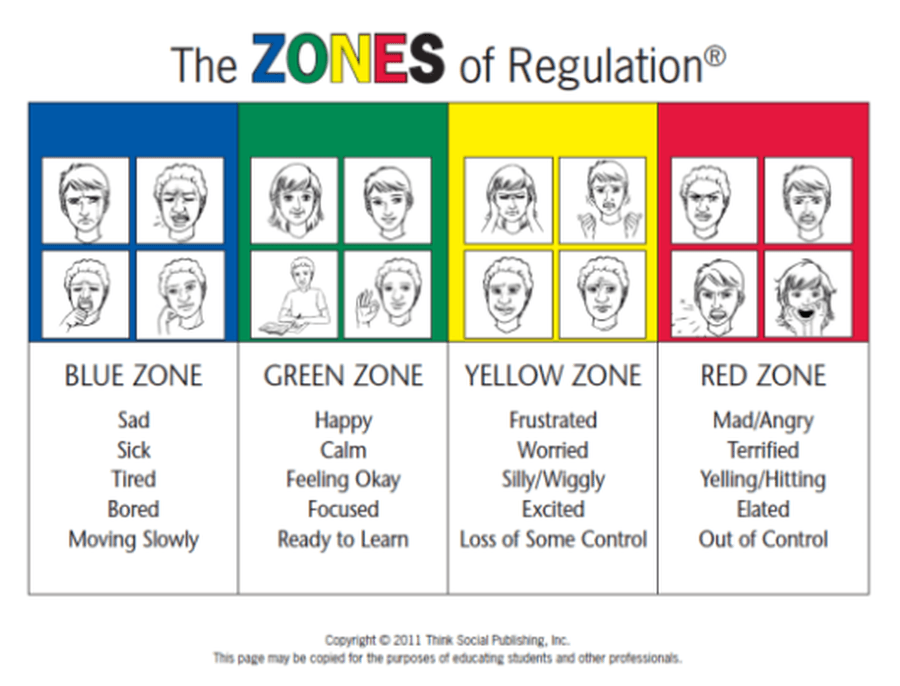 The Four Zones Explained:
The Red Zone is used to describe extremely heightened states of alertness and intense emotions. A person may be elated or experiencing anger, rage, devastation, or terror when in the Red Zone.

The Yellow Zone is also used to describe a heightened state of alertness and elevated emotions, however one has more control when they are in the Yellow Zone. A person may be experiencing stress, frustration, anxiety, excitement, silliness, the wiggles, or nervousness when in the Yellow Zone.

The Green Zone is used to describe a calm state of alertness. A person may be described as happy, focused, content, or ready to learn when in the Green Zone. This is the zone where optimal learning occurs.

The Blue Zone is used to describe low states of alertness and down feelings such as when one feels sad, tired, sick, or bored.
Interventions to support social and emotional skills

Emotional Support / Social Skills

Some children may experience: difficulties with behaviours, bereavement, parent separation, friendship troubles etc. Emotional support is tailored to our students – many areas are worked on 1:1 with a TA or teacher. The member of staff builds up a good relationship with the student and they discuss strategies they can apply or practice in real-life situations.

Social Skills enable us to know what to say, how to make good choices, and how to behave in diverse situations. The extent to which children possess good social skills can influence their academic performance, behaviour, social and family relationships.

A typical social skills group will have between 2 and 4 children depending on the ages and individual needs within that group.

There are 7 areas that are commonly worked on:

1. Basic non-verbal skills, eg facial expression, gestures, posture, eye contact

2. Non-verbal responses, eg social distance, fidgeting, appropriate smiling & laughter

3. Voice quality, eg tone & pitch, volume, speed, clarity

4. Quality of speech, eg amount spoken, hesitations & pauses, speed of response

5. Content of speech, eg repetitions, interruptions, interest content, relevancy of contributions

6. Listening skills, eg personal experiences related appropriately, relevance of feedback to others, ability to acknowledge, summarise & reflect on what others have said

7. Basic conversation skills, eg length of reply to questions, content of information given, initiating conversation

During one block of social skills intervention sessions a maximum of 2 or 3 areas would usually provide the main focus for the planned activities. The sessions use positive strategies to emphasise the required behaviour, through a variety of activities and include modelling, coaching and role-playing.


Play Therapy or Group with Tia

Tia provides individual play therapy to children who have been identified to have a particular social and emotional difficulty. The sessions take place in a room with no disruption so children feel safe and secure to share their feelings and experiences through play. We have limited spaces on this programme and parent/carer consent is needed before sessions are began, Tia aims to include the whole family in the process of play therapy and regular meetings discuss progress and areas to work on.


ELSA Sessions

Our Emotional Literacy Support Assistant (ELSA) runs targeted sessions for identified individuals covering aspects such as social skills, emotions, bereavement, anger management and self-esteem.


Time to Talk (EYFS & KS1)

This book teaches and develops oral language and social interaction skills. Contains 40 sessions, designed to take place two to three times a week, the book aims to develop the "rules" of interaction with the help of the character Ginger the Bear, who features in all the activities. Skills taught include: eye contact, listening skills, turn taking, sharing and attention.

Socially Speaking (KS2)

This social skills programme is divided into three units: let's communicate; let's be friends and let's practice. It aims to increase self-esteem and improve listening skills and expressive language abilities. Teacher's notes, photocopiable illustrated pupil worksheets and assessment and evaluation forms are included.

Talkabout for Children

There are 3 parts to this series: Self-awareness and self-esteem, social skills and friendships. This programme aims to develop key social skills through a series of activities. This is completed in a small group.
Lego therapy

Lego can help develop and reinforce play skills and social skills such as:

Verbal and non-verbal communication
Joint attention
Task focus
Sharing and turn-taking
Collaborative problem-solving
Building with Lego bricks is a multi-sensory, open-ended experience, so the building projects can be tailored to any person's unique needs, such as blindness, deafness, mobility impairment, autism or ADHD. But the format for most Lego therapy programs is the same.

Participants suggest and agree upon simple rules that everyone understands. The group agrees upon a project that is not too easy and not too difficult. The rules are posted as a reminder.

Each participant is assigned a role, and roles are rotated through the group during the task:

Engineer – oversees the design and makes sure it is followed

Builder – puts the bricks together

Supplier – keeps track of the type and color of bricks that are needed and gives the bricks to the builder

Director – makes sure that the team is working together and communicating (adult in the group)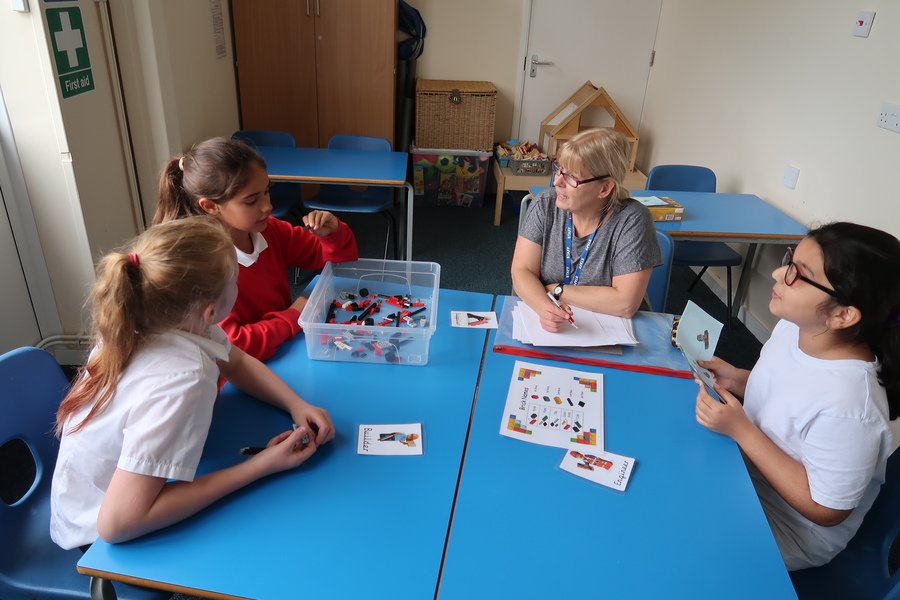 A Volcano in my Tummy

This is a clear and effective approach to helping children and adults alike understand and deal constructively with children's anger. By carefully distinguishing between anger the feeling, and violence the behaviour, it uses activities, stories, articles, and games designed to allow a multi-subject, developmental approach to the topic at home and in school.


Circle of Friends

It encourages the development of a support network for the child in focus within a structured setting, which can also extend beyond that setting. Those in the peer group are encouraged to look at their own behaviour and also to develop an understanding of the focus child's behaviour and difficulties in order to develop strategies and practical solutions to help the individual. It is not an approach to provide instant friendship, but over the course of meetings and the evaluation of set targets, it is hoped that the focus child will be able to build closer and better relationships with other children.
Complaints
The usual arrangements for the treatment of complaints at Broadwater Down Primary School are used for complaints about provision made for special educational needs. We encourage parents to discuss their concerns initially with the class teacher, SENCo or Headteacher to resolve the issue, before making the complaint formal to the Chair of the Governing Body. (See Complaints Policy) If the complaint is not resolved after it has been considered by the Governing Body, then a disagreement resolution service or mediation service can be contracted. If it remains unresolved after this, the complainant can appeal to the First–tier Tribunal (Special Educational Needs and Disability), if the case refers to disability discrimination, or to the Secretary of State for all other cases. There are some circumstances, usually for children who have an Education, Health and Care Plan, where there is a statutory right for parents to appeal against a decision of the Local Authority. Complaints which fall within this category cannot be investigated by the school.