Year 3 Roman Game Show
Year 3 Roman Game Show
24 March 2022 (by Mrs Harris (bdps-admin))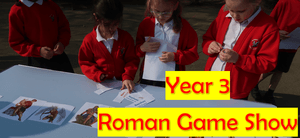 Year 3 - Game show time!
On Friday, Year 3 invited all the children from Year 5 and Year 6 to play a Roman themed game show. This was the project outcome for this term where we have been learning all about the Romans. The children created 4 rounds, a Pictionary round, quiz question round, a round requiring the players to identify and label Roman Gods and finally a memory round. The Year 3 children really enjoyed themselves and it was great to see how engaged the Year 5 and Year 6 children were.
Here are the quiz round questions the children wrote. How many can you answer?
What did the Romans eat that was pizza shaped?
What vehicle did the Romans race in?
What was the name of the people that fought in the Colosseum?
In what year was Rome built?
What was the name of the wall built to stop the Romans invading the land we now call Scotland?
What is the Roman art called that is made up of small tiles?
Answers
Bread, chariots, Gladiators, 753BC, Hadrian's Wall, mosaic