Year 6 Sports Leaders Training
Year 6 Sports Leaders Training
9 November 2022 (by Mrs Harris (bdps-admin))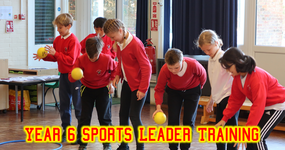 Some Year 6 pupils this week were able to take part in Sports Leader training to teach them how to be sensible and enthusiastic sports leaders. Speaking to the Year 6 children, they said:
"Firstly we were split into groups of four and had red and green hoops in front of us. In the middle of the room was pieces of paper for us to put in the red hoop (bad qualities a sports leader shouldn't have) or the green hoop (good qualities a sports leader should have.) We worked as a team and we all took turns so it was fair.
Secondly, we were spilt into pairs and was given a ball to bounce into a hoop that was on the floor. The idea was to make it really boring, but then the trainer told us that he had done it intentionally and that it was important that we make our tasks clear and interesting.
After we finished a few activities, the trainer gave us a word to remember, STTEP which stands for Space, Time, Task, Equipment and People. These are all this we need to play a game, by not feeling cramped and most importantly, fun!
In the end, we got a booklet and were asked to create our own game. My team chose sit down dodgeball. We took our time to create the number in a team, equipment and the layout of the game. Before we left, we all had a go at playing our games in the hall which was great fun. I really enjoyed Sports Leader Training!"
For more photos, please see our PE page