Ladybird Class Sponsored Poem Performance
Ladybird Class Sponsored Poem Performance
28 February 2023 (by Mrs Harris (bdps-admin))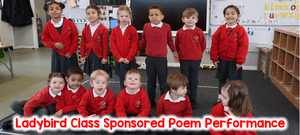 Ladybird class gave a beautiful performance this morning to some children that visited from a local nursery school. Ladybird class were set a challenge to learn a collection of poems to develop their use of language, their confidence and ability to learn and remember and perform rhymes and poems. These skills are essential in developing a love of reading. The children learnt and performed eight poems.
The money raised from the performance will go to purchasing additional resources to supporting learning time in the their garden area.
Well done Ladybird class!