Year 6 Netball Tournament
Year 6 Netball Tournament
13 March 2023 (by Mrs Harris (bdps-admin))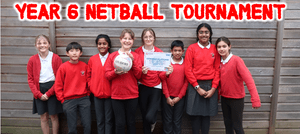 On a cold and breezy Monday, that soon turned into a cold, breezy and wet Monday afternoon, eight trepid netballing adventurers, made the long and arduous journey to Weald Grammar School in Tonbridge, seeking glory and riches.
Their quest began well with a convincing 5-0 victory – superb teamwork, shooting and marking were the order of the day and these skills continued to be utilised as our heroes fought through the league stages. A tight draw and another victory were enough to secure 1st place in the group and a path to overall victory.
Into the final four, a trophy in their sights, we battled to a draw against a very good team. Game very much still on. The next game was a tight 1-0 defeat but we battled back in our final game with a 1-0 win to finish in an absolutely brilliant 3rd place and a loot of bronze – only denied silver on goal difference.
As ever, our finishing position was a lovely addition to the incredible sportsmanship, courage and teamwork shown by our wonderful pupils.
Well done to all the children.