Interhouse Basketball Tournament
Interhouse Basketball Tournament
27 March 2023 (by Mrs Harris (bdps-admin))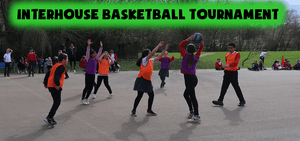 Monday afternoon saw the entire school descend upon the bottom playground for this term's inter-house event…a basketball competition!
The house captains had spent the build-up fine tuning their line-ups and tactics and were born ready for battle on the hallowed court. Each team displayed immense skill, perseverance, courage and sportsmanship throughout the tournament. Some amazing baskets were scored and the children's commitment to the cause was exceptional. As was the support of the rest of the children in the school, who enjoyed an afternoon in the early spring sunshine, cheering on their houses: Air, Earth, Water and Fire.
After the first round of games, Fire and Air had the early advantage with Fire scoring an impressive 8 points in their opening fixture. Some chopping and changing meant that after round 2, Air were now in the lead. In truly dramatic style it all came down to the final fixture: Air v Fire. With Air one point ahead but Fire having scored more baskets, it really was all to play for.
The scores were level with moments to play in an end to end encounter and that was how it remained as Air emerged as champions. Well done to all of the children.
Please see our
PE page
for more photos