Spring Disco
Spring Disco
29 March 2023 (by Mrs Harris (bdps-admin))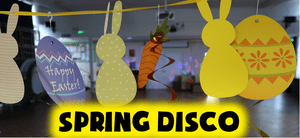 Disco time! The pupils have enjoyed the Spring Disco hosted by the PTA.
There was a lot of great dancing and fun games, which included musical statues and a limbo competition.
Mrs Harris also judged the spring hat competition, she found it really hard as there was so many wonderful choices!
A big thank you to the PTA for hosting a fun evening!
Please see our PTA Page for more photos.