Armistice Day
Armistice Day
11 November 2021 (by Mrs Harris (bdps-admin))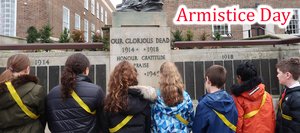 This morning, a group of Year 6 children paid their respects at the Tunbridge Wells War Memorial for Armistice Day. On the walk they spoke about how the world would be such a different place if it were not for the brave people and animals that gave their lives for our country.
The cannons were fired and there was a two-minute silence. Following this, the Mayor of Tunbridge Wells spoke to the children about the different coloured poppies and their meanings.
They then met 'Frankie the Owl' and her handler. He spoke about the falconry used during the World Wars and how they are now being recognised for their service during the wars.
For more photos, please see our Values page