Harvest Festival With Nourish Foodbank
Harvest Festival With Nourish Foodbank
12 October 2022 (by Mrs Harris (bdps-admin))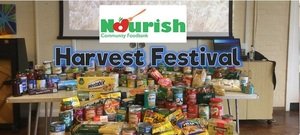 We had a visit today from Dawn Stanford BEM, Operations Director of Nourish Community Foodbank.
She spoke to us in assembly today about harvest and the importance of the work that Nourish do as a charity. We then sang the 'Harvest Samba.'
Nourish community food bank delivers three days' emergency food and supplies to people in crisis.
We had a large collection of food from our school community that Nourish took away to distribute.
For more details about Nourish, and the good work they do, please visit:
https://www.nourishcommunityfoodbank.org.uk/
Please see our Values Page for more photos.