SALUS Youth Participation Workshops
SALUS Youth Participation Workshops
11 October 2022 (by Mrs Harris (bdps-admin))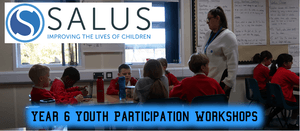 Year 6 are taking part in a weekly SALUS Youth Participation Workshops.
They are looking to raise some money to buy some new equipment for the playground at break and lunchtimes.
They have been looking at fundraising ideas, the importance of community and working together.
We look forward to seeing the ideas they come up with!
For more photos please see our Year 6 Class Page.