Year 5 Visit To Amelia Scott Centre
Year 5 Visit To Amelia Scott Centre
1 November 2022 (by Mrs Harris (bdps-admin))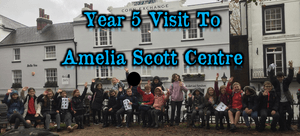 Year 5 went on a visit to the Amelia Scott Centre as part of their learning about suffrage. On the walk there, they stopped a viewed significant and historical landmarks of Tunbridge Wells.
Once they arrived at the centre they completed a workshop where they got to handle real life artefacts and complete a puzzle which lead them around the museum.
An enjoyable school trip!
For more photos, please see our Year 5 Class Page.