Year 5 Globe Theatre Trip
Year 5 Globe Theatre Trip
22 March 2023 (by Mrs Harris (bdps-admin))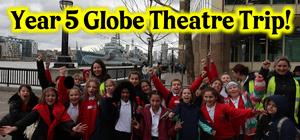 Year 5 had a fantastic day in London for their trip to the Globe Theatre.
They caught the train to London Bridge and walked the scenic route, passing Southwark Cathedral, HMS Elizabeth II and saw the Tower of London.
Once they arrived, they had a tour around the Globe, and got to sit in the middle gallery where they could see the stage and the other seats. The guide answered all questions that Year 5 had and explained some very interesting facts about the Globe.
After this, they went to the rehearsal and performance building and took part in a workshop where they learnt about rhythm, cues, and how to perform the opening scene of Romeo & Juliet, which included biting thumbs and sword fighting.
The day was enjoyed by all!
Please see our Owl Class page for more photos of the day.