Poetry Workshop
Poetry Workshop
18 October 2022 (by Mrs Harris (bdps-admin))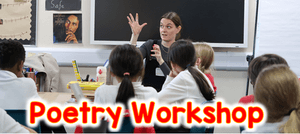 We had a visit from Cecilia from The National Literacy Trust this afternoon.
She visited Year 4, 5 & 6. She asked the children what books they had been reading, and why they thought reading was important.
The children spoke about how it helps us to learn, about how when we pick up a book we can travel anywhere and stretch our imagination. How we can learn about other cultures, celebrate their stories and differences.
Cecelia then read two poems, one was about friendship and how important it is to do kind things for people in our lives. The other was about encouraging people to remember how special they are.
A big thank you to Cecilia for visiting us!
Please see our Values Page for more photos.